As a Pacifica Senior Living community, our mission is to do what we love and what we truly believe in: providing compassionate, personalized care services with dignity and respect. As Pacifica approaches 80 communities and we find ourselves at No. 20 on Argentum's list of 150 Largest Providers, we are humbled to have the opportunity to serve the many thousands of residents who have chosen to make our communities their home. We warmly welcome each resident to our Pacifica family, and we view it as a tremendous honor that we can meet their needs–-ranging from Independent Living and Assisted Living to Memory Care.
Pacifica Senior Living is excited that all of our senior living communities have COVID-19 vaccination dates in place. Our vaccination clinics for both residents and staff are well underway with 99% of all communities already receiving their first dose, and several communities have already had their second vaccine dose administered. Not only does the vaccine protect each person that receives it, but it protects the community as well. Our highest priority is the health and safety of our staff and residents, and this vaccine moves us closer to getting beyond this virus and getting our residents' lives back to normal.
Our heightened protocols remain in place with daily staff, resident, and visitor screening, and our increased cleaning protocols remain in place as health and safety at the forefront of all we do.
Our Carmichael Neighborhood

Location Matters
Great food, shopping, and entertainment await near The Atrium at Carmichael, California. Indulge in a pasta feast at Strings Italian Cafe or opt for your favorite fried fish at Tugboat Fish & Chips. When it comes to shopping, you'll enjoy a variety of options at Carmichael Village and Crestview Village Shopping Center. Downtown Sacramento makes the perfect place for a daytrip, where you can walk around California State Capitol Park and visit the Old Sacramento Waterfront to enjoy the views, museums, and history tours.
The Atrium at Carmichael also puts you close to important medical providers, including the Mercy San Juan Medical Center, Kaiser Healthcare, and VA Northern California Health Care System. Want to know what else is nearby? Contact our team today–-we can't wait to tell you more about the neighborhood.
Pet-Friendly Community

Cats & Dogs Welcome
Furry friends are part of the family. We understand! That's why The Atrium at Carmichael invites your cat or dog to make their home here with you. We're sure they will love the community, duck-filled lakes, and private patio or balcony just as much as you do.
Certain restrictions apply. Contact our team today to find out more about our pet policy.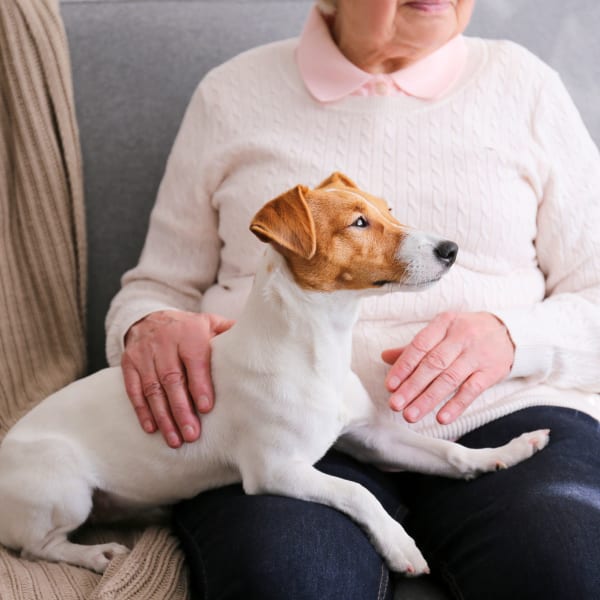 Daily Activities

Fun For Everyone
The Atrium at Carmichael offers a jam-packed calendar of daily activities. You're bound to find something you love. Here are just a few of our most popular activities:
Instructor Led Fitness Classes
Bingo
Happy Hour
Shopping Trips
Public Speakers
Ready to make your move to The Atrium at Carmichael? Call us today to learn more about the community.